Human Greenergy, monumental installation, Beijing Design Week, Beijing, 2016

Hosted in an old market located in the heart of the historic White Pagoda Temple district, the "Human Greenergy" installation invited people to join an energy generation experience by dedicating calories through dance, tai chi and gymnastics, before the energy was symbolically collected to light the stupa at night.

"The artwork creates a connection with the residents," said Yann Toma, "It symbolizes the distribution of energies and visualizes the energies inside the hearts of people that would improve the environment. "
The market's rooftop was transformed into an open space where residents could take part in physical exercises and contribute their "Greenergy." The energies captured during the day were transferred to the colored streams on the large screens before they were used in the light project at night, so visitors could see the immediate effect of their efforts.
"It is a real experience, while climate change is also," says Toma. The illustration shows how people's behavior could have a real impact on the environment, prompting them to explore the relationship between nature and sustainability.
It also provided a new perspective to discover the beauty of the area, said Anne-Laure Gimenez, a French architect who co-produced the "Human Greenergy." With the varied lighting effects and the rooftop garden area of the market, the project offered an interactive open space rarely seen in the crowded residence of hutong, a set of narrow passages and alleys.
The project was part of the 3rd Franco-Chinese Environment Month which runs from September 27 to October 27.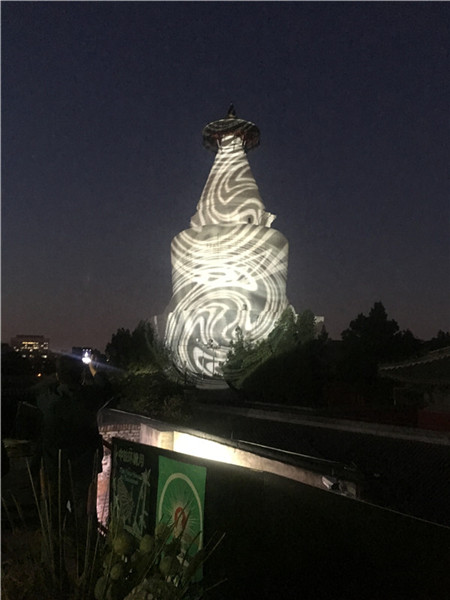 Human Greenergy, an art installation designed by French artist Yann Toma, architect Anne-Laure Gimenez, 2016.
Yann Toma has illuminated the White Pagoda Temple (Bai Ta Si) in Beijing Design Week.